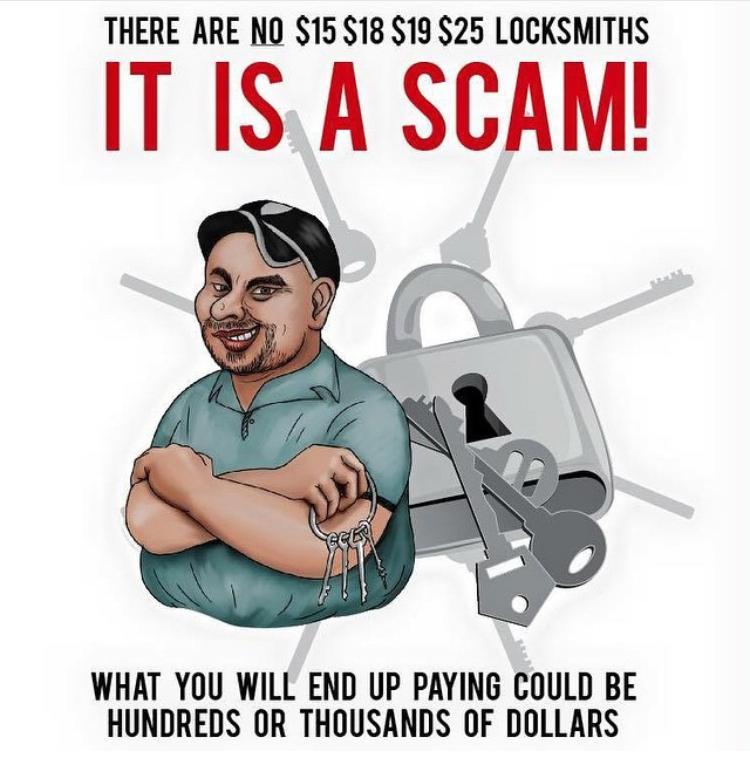 Once again this scam is also predicated on not giving an exact price over the phone. Rekeying typically costs between $12 and $30 per key hole/cylinder. Most locks have 1 key hole. Some locks are, in-fact, double sided (2 key holes) and will count as two locks. Some companies have a service call/trip charge and possibly a minimum charge for coming out. All of these pricing structures are acceptable as long as you know the total up front.
For example: One locksmith company we checked out quoted "A $39 service call plus $15 per cylinder to rekey. Our minimum is $65 to do a rekeying job". This is a completely ethical quote. If you have 4 basic locks, you know UP FRONT, that the price will be $99 for the whole job. If you have just one basic lock, the price to come out to you and rekey it will be $65 and not $54, because they have a minimum. Easy. Basic.
If you do not ask for a price up front, from one of the scam companies - they will trick you. They will cheat you. They quote "$15 to come out plus labor and labor starts at about $10 for a basic lock". Once they get to you, your "basic" lock will turn out to be a 'high security' (this is one of their favorite "excuse phrases") lock. Their original price will quadruple or worse.
---
Or they charge you for the new pins along with all the other charges. Replacing the 'pins' is what a rekeying job is. It's like buying a car from a dealer and the dealer charging extra for the steering wheel and the windows. It is always included. It's a given!
The technician gives a different price depending on how many pins are in the lock. Almost every basic lock has five pins. Every locksmith knows this. This is basic common knowledge. They also know that the general public does not know this. They count on this fact. The unscrupulous tech tells you that he can't "see" how many pins there are in the lock and will have to open it first. He tells you that if it has 4 pins, the charge will be $10 to rekey it (sounds cheap, right?). If the lock has 5 pins it will be $60, and if it has 6 or more it will be $149. At this point you, subconsciously, are praying that it doesn't have 6 or more. The technician then takes the lock off the door, takes it apart, and states, "Oh, thank goodness, this lock is only a 5 pin lock. You just saved a bunch of money!" You are so glad it wasn't a 6 or 7 pin lock that you are glad to pay 'just $60' plus all the 'other' fees. You even thank him for the privilege.
The lock(s) are broken and/or the lock has to be repaired first. Nope. Your lock is not broken. It just isn't. If it worked before they got there – it still works now. Period. Two explanations - They broke the lock on purpose or they just plain lied to get more money out of you. That's it.