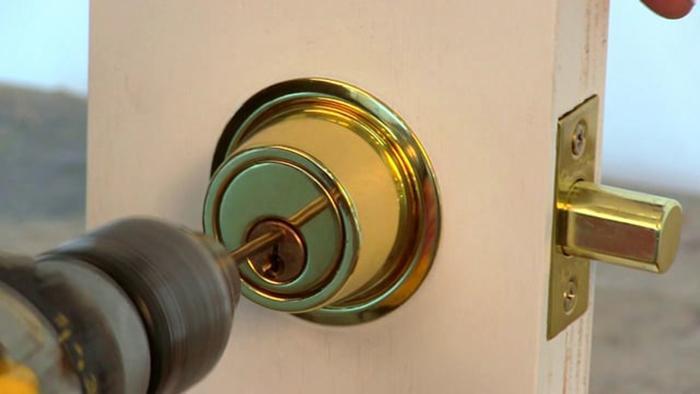 A classic in the arsenal of scam locksmith companies: You have locked yourself out of your home or business. It's a horrible feeling. We have all been there. The "$15 locksmith" ad that you called promises you a low price to get you back inside your residence or office. When the locksmith arrives, he sticks to the original 'lowball' quote that you were promised. They start their lock picking procedure. After 5 minutes they announce that there is a problem. "You have an un-pickable lock", they announce. They site one or more reasons for this:
The lock is "high-security".
It is an unconventional lock.
It is an overseas lock and they don't recognize it.
It has been previously rekeyed to be "un-pickable".
One of the pins is "stuck".
They then pretend to walk away, knowing that you will say, "What am I supposed to do now?" They then start to give you the only "options" available to you. Telling you that the lock might be able to be drilled or pulled open. Of course, the lock will be useless to you at that point (they know this). The technician will then say something like, "I MAY be able to drill it and replace it. I think I have a few "extra" one in my car. Unfortunately we are talking much more money for this service..."
You're screwed. What else can you do? You are locked out. You need back in! So....you pay. $149-$349 is what they typically ask for. This practice (unlike some of the other scams) is completely illegal, not to mention unethical and immoral. It is hard for the authorities to prove this. So this scam continues to this day.
The truth about picking a lock: Picking a residential or commercial lock requires more skill than opening a car door. It requires training and experience. Some locks may be harder to pick than others. Some locks cannot be picked, but it is rare. For example a KWIKSET SMARTKEY ™ deadbolt, cannot be picked. It must be drilled.
How can you protect yourself? Simple. Get a price over the phone. A reputable locksmith company will give you a flat price to pick any lock. If they charge to drill and/or replace a lock – they will give you an upfront price for that too. Most real locksmith companies will not even charge extra to drill and replace a lock (as long as the lock is a standard one). They don't charge for this because they feel that it is not your fault that the lock is "hard to pick".
A side note to this scam: The really bad scam companies, don't even train a technician to pick a lock. They literally instruct them to never pick a lock. Instead, they tell their tech to always "drill and replace" or they will be fired. This is, unfortunately, a fact. The company implements this policy for two main reasons. Number one: The company makes up to 5 times the profit from selling new locks versus just picking an old one. And number two: They save money because they don't have to hire real locksmiths. They can literally hire anyone off the street because they don't have to teach or actually train the technician any kind of real skills. They can hire anyone and have them working within hours of filling out the application. Their gain, and definitely, your loss...